Hello, I Love You
はじめまして、愛しています。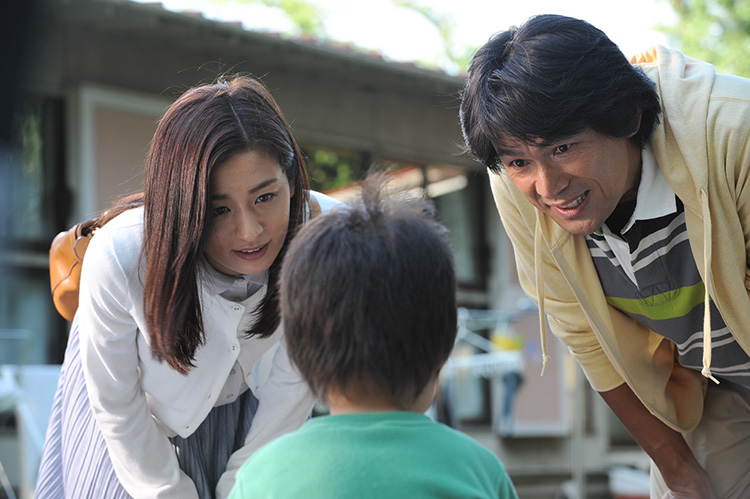 This original story follows a couple that by chance, adopts a five-year-old boy abused and abandoned by his birth mother.  Their abiding love for the boy brings about miracles and changes the boy's and their own lives forever. 
The award-wining script is based on extensive interviews and research of orphanages and illustrates the "plenary adoption" system which requires adopting parents to meet strict qualifications.
A childless couple decides by chance to adopt a five-year-old boy who has been abused and abandoned by his birth mother.  The boy does not smile nor speak and has no name.  The couple names the boy "Hajime" (meaning "starting" or "opening" in Japanese) and takes care of him with love and patience.  He gradually opens up and slowly accepts them as his new parents.
One day, Hajime's birth mother and grandmother appear, and take him back to their home.  According to the law, the birth mother has custody of her child unless there is serious trouble.  The couple files a suit to get Hajime back, but it is rejected.
Hajime's birth mother is emotionally unstable and attempts suicide.  The couple saves her because they believe Hajime needs love from his birth mother. 
In the last episode, the mother confesses to the couple the reason why she abused Hajime, and seeing how they truly love Hajime, asks them to be his parents.  The couple accepts Hajime's past, present and future, and they become a "real" family with Hajime.
Cast
Machiko Ono (尾野真千子)
Yosuke Eguchi (江口洋介)
Scenario Writer
Kazuhiko Yukawa (遊川和彦)
Production Year
2016/07 -
TIMESLOT
Prime Time
FREQUENCY
Weekly
Target
Male / 20-34
Male / 35-49
Male / 50~
Female / 20-34
Female /35-49
Female /50~
Duration & Episodes
54min x 8ep, 69min x 1ep (2016)